GPNVG 18 housing amazed our America customer
2021/04/17
In mid-December 2020, we received a inquiry about our LDNV014 4 eyed GPNVG 18 plus from a senior enthusiast of night vision products. I told him that we usually provide the GPNVG housing without image intensifier tubes and quoted price, but at that time he told that he will reach out when he has cash in hand.
However what surprised me is that this clients sent inquiry again after three days. He asked some questions and our answers below:
1. Is the install easy enough for a first time user?
It is easy to install the tubes, we have tubes installing video for your reference.
2. Do I need to "purge" the housing after I drop in the intensifiers?
The price I quote you is IP65 waterproof GPNVG 18 housing , no need to purge the housing after installing the image intensifier.
3. Can you just send me whatever videos you have on the device?
4. How long would it take to ship to OR state?
The shipping time is about 4-7 days by DHL, home delivery.
5. Does it have a case? Does it come with a battery pack?
Battery pack and connector are included, it is packed by safety hard case;
6. Can I order an additional battery pack?
Yes, need extra cost;
7. Can I use lens protectors from other units? Specifically, if the scarificial lens I have is threaded for the inner diameter of a pvs-14, will it work?
I am sorry to tell you that our this GPNVG is not match with scarificial lens of pvs-14, and it can't use lens protectors.
8. Can I have a picture of the unit with included shipped accessories?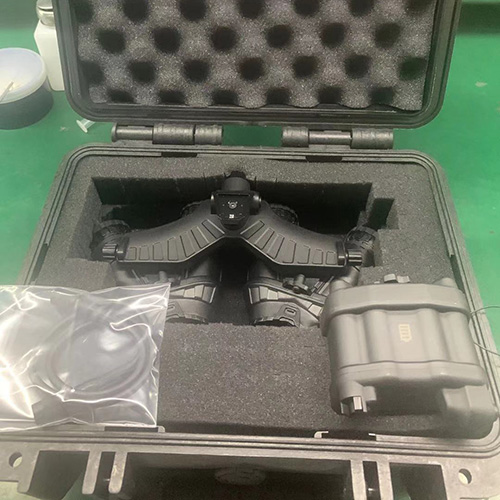 9. If possible I'd like duplicate rubber caps for the outside lenses。
The rubber caps already included in the package
After I replied these questions, my client paid for this GPNVG 18 housing soon. After he receive the goods he told me "These are the coolest fucking things I've ever owned! 5 stars!!!!!!" "They're amazing!", I was even more surprised that he changed his Facebook profile picture to a photo of him wearing this Ground Panoramic Night Vision Goggles. It can be seen that he is very satisfied with our product and likes it very much, he also told that he also interested in our PVS 31 housing OEM kit.
Please click below link to view more details about this night vision deivce:
https://www.lindunv.com/night-vision/quad-tubes-gpnvg-18-plus/