European customer order night vision monocular
2021/04/28
One European customer who plan to buy a night vision monocular, he respectively inquired the price of the LDNV002 NVM (night vision monocular) housing and the full LDNV002 NVM with IIT(image intensifier tube) price.
After I respectively quoted him the price, he told me that he prefer buying the LDNV002 NVM housing, and he can get the IIT by himself.
As known that the IIT size must match with the NVM housing, otherwise the IIT can't be used  on this night vison monocular. The LDNV002 NVM IIT size is 43×22.5mm, we confirmed with my customer again whether he can get this size IIT, he told that he can't find this kind of IIT, and he plan to buy the full NVM from us, and he want high quality gen 3 IIT.
Unfortunately gen 3 is commercial forbidden in China, only gen 2+ tubes can be provided by us. Finally, I recommend him our another high quality gen 2+ tubes, this kind tube made in China, and IIT specification as below sent for his reference:
Photocathode sensitivity(2856K): 856
Radiation sensitivity(850nm): 75
brightness gain control: 9700
Max. output brightness:  4.76
Input current(Ma): 12
Equivalent background brightness: 0.18
resolution( lp / mm): 60
Signal to noise ratio: 23.97
Below is the image taken through this kind tube: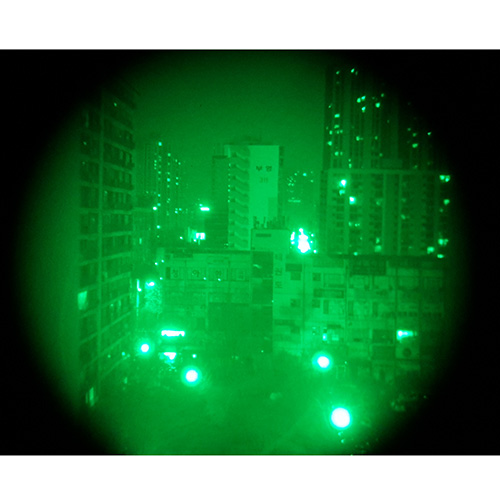 The customer was so happy and confirmed to buy the NVG with this high quality IIT immediately. The LDNV002 NVM are on the way to the customer now, and he told me that he is looking forward to it. I believe that he will be so satisfied with it when he received the goods.
Monocular video as below:

Here also recommend you our PVS 31 housing and GPNVG 18 housing OEM kit for your reference